Dynapac recently successfully installed concrete (PCC) in cooperation with its long-term customer STRA-LA-BAU based in Dortmund, Germany.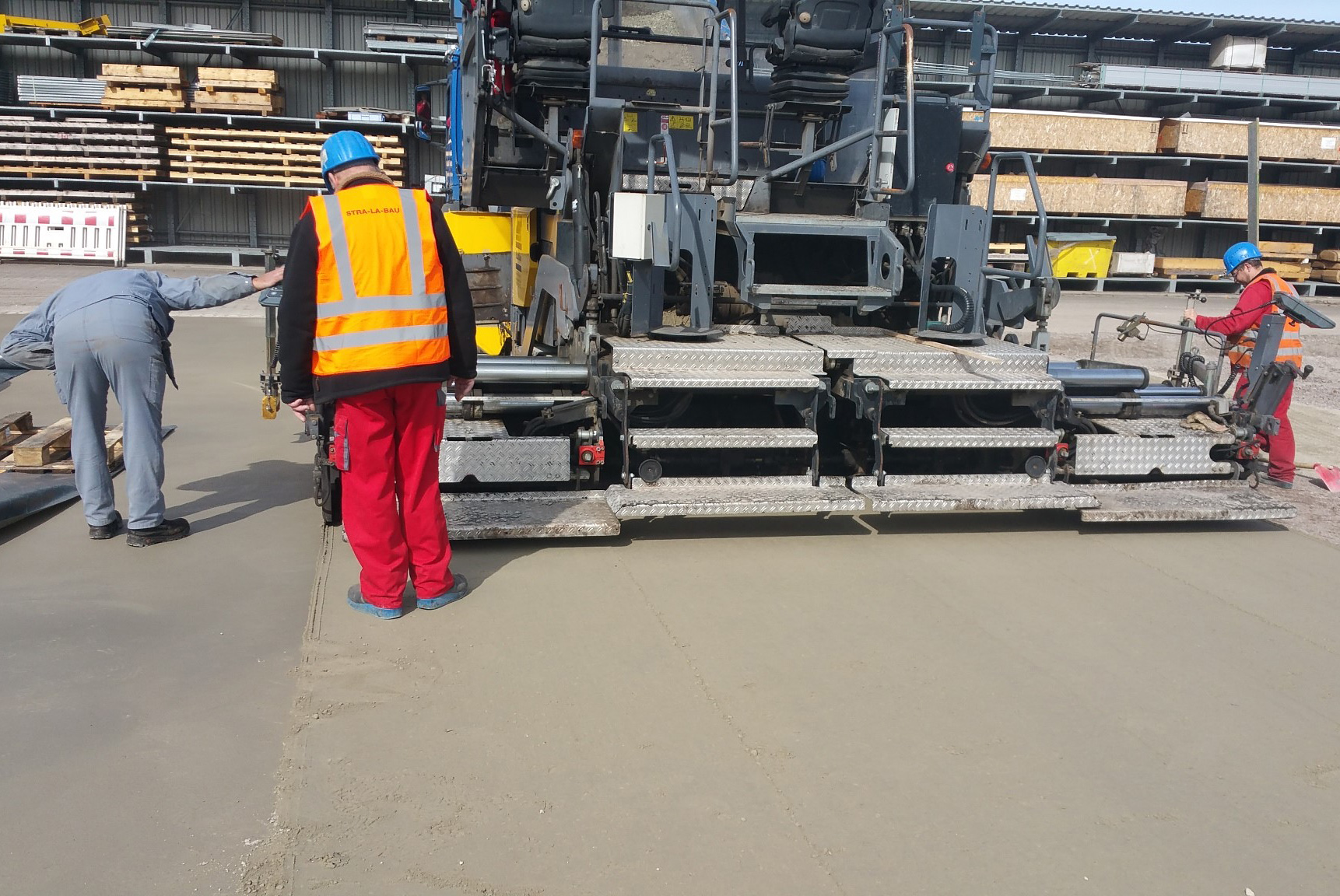 External warehouse with high point loads
STRA-LA-BAU GmbH is a well-known road construction company based in Dortmund, Germany which uses several Dynapac pavers as the DF45CS, F1200CS and the F1700C as well as Dynapac rollers. The company is managed by Mr. Dipl.-Ing. Thomas Wencker and his authorized signatory Mr. Dipl.-Ing. Peter Schmidt.
The material PCC (= paver compacted concrete) is a concrete which is installed by pavers. STRA-LA-BAU used it in an industrial area from the company KHS (also based in Dortmund, Germany) on behalf of Holcim. There is an external warehouse planned on which heavy machine parts for the packaging industry will be stored. Therefore, high point loads are to be expected – a condition in which conventional asphalt mixes often reach their limit.
Dynapac SD2500CS paver with high compaction screed
STRA-LA-BAU trusted with this project its machinery partner Dynapac and the long-term expertise of Dynapac contact Michael Heid. In cooperation the required machinery was put together and an installation recommendation worked out. For STRA-LA-BAU a high pre-compaction as well as a homogenous surface structure of the installed concrete were decisive. Therefore, the Dynapac SD2500CS paver with the high compaction screed V5100 TVH has been selected.

jointless concrete installation Dynapac paver SD2500CS and roller CP1200
It was shown during the application that all requirements could be met completely. With installation lengths of approx. 60 meters on this industrial area the SD2500CS perfectly demonstrated its maneuverability. At the same time the Dynapac high compaction screed achieved a constant installation thickness of approx. 14 cm in the binder course and 10 cm in the top course. In addition to the remarkable pre-compaction by the screed, the surface was positively noticed due to its seamlessness.
The Dynapac roller CP1200 with 12 tons was used for re-compaction. For the final finish the trowels have been used.
STRA-LA-BAU and its employer Holcim have been very satisfied with the application and a new project has already been planned.