Versatile, precise and with radio control
DISCOVER THE NEW DYNAPAC F1250CS, A COMPACT PAVER WITH A HIGH-PERFORMANCE SCREED THAT OFFERS A HIGH DEGREE OF VERSATILITY AND A HOST OF EXCITING TECHNOLOGICAL FEATURES. INCLUDING A RADIO CONTROL THAT INCREASES SAFETY, PRECISION AND COMFORT FOR OPERATORS. WE GOT TO TALK WITH ANDREA MONTECRISTO FROM EDILSTRADE WHO ALREADY TESTED IT IN THE FIELD AND FOUND IT SATISFACTORY.
A compact, yet extremely versatile paver. A high-tech condensate of historical reliability. Dynapac (Fayat Group) is bringing the new F1250CS to our roads; this paver, combined with the Dynapac V2400TVTVE screed (with a powerful 55 kW continuously variable speed control unit) is already greatly appreciated by our operators who are busy working on a wide variety of jobs, from narrow lanes to major highways. The versatility mentioned above refers both to scope of application and, of course, paving widths which can reach up to 3.5 m with the extensions. If, on the other hand, we look at its performance in narrow spaces, we can anticipate that shrinkage, even of up to 30 cm, is easy and quick, to the full satisfaction of the company owners, who can therefore put the pedal to the metal in terms of productivity.
Deferring a specific in-depth analysis on this aspect for a few lines, we can now emphasize the milestone of this new paver's precision in the face of every construction site situation. We have also succeeded in developing a unique innovation: the option of maneuvering the machine via the RC 360 radio control, a tech "toy" with many advantages. In fact, the distance allows the operator to move around safely while promoting visibility, with obvious benefits for the final quality of the work. "The combination of compact dimensions, the high-performance screed and its ruggedness," Dynapac Italia notes, "make the F1250CS a perfect working tool for a variety of applications. The Dynapac F1250CS, for example, is capable of asphalting below the surface.
This allows the paver to exit a milling trench, while always maintaining the screed at the surface level without creating a step and making it necessary to reposition the paver. It is also ideal for paving in tight places such as bike paths, trenches and sidewalks." This is just to provide the reader with an initial picture of this machine, which, among other things, is equipped with a state-of-the-art 54 kW Deutz four-cylinder engine and has a series of lighting devices that make it ideal for night work. For more compelling details (and there are some), please refer to the documentation and all the relevant information, which can be provided by Dynapac. In this article, however, we thought it would interest our readers to hear the voice of an entrepreneur who has already included the Dynapac F1250 in his fleet and who has also tested it extensively in the field, including with the innovative radio control. The testimony, which is invaluable to us, comes from Andrea Montecristo who heads Edilstrade di Montecristo, based in Ruvo di Puglia in the province of Bari, along with his brother Vincenzo and son Mirko.
In what geographic area do you operate?
Mostly in Puglia, where we have a lot of work. Having always spread ourselves out well and worked with the right men and machines, we have a good name in the industry.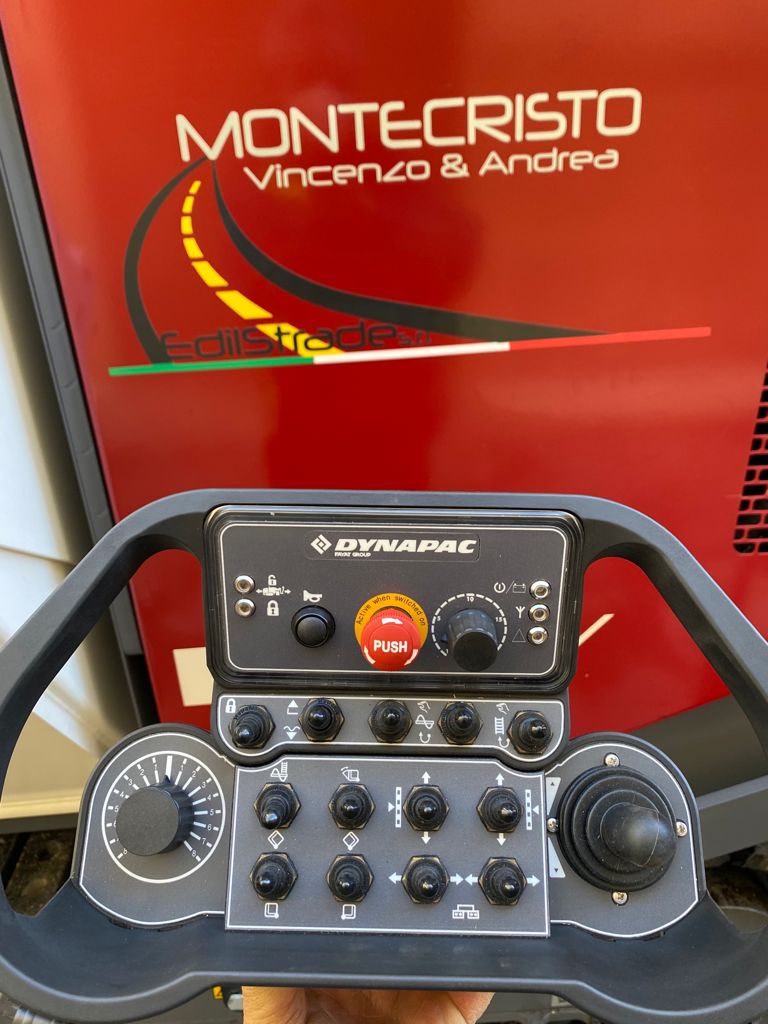 The new F1250C facts
Weight 7 tons
Base width 1.20 m
Max. working width 3.50 m
Min. working width with reducing shoes 0.30 m
Paving capacity 300 m3/h
Deutz TD2.9 L4 engine Tier 3/Tier 4 emissions
Hopper capacity 5.5 tons
Auger diameter 320 mm
What, specifically, does your company do?
We lay telecommunications cables for the main operators in the sector (including Telecom, Vodafone and Fastweb); we perform all the necessary work, from excavation to road restoration. In addition to this, moving from the private sector to the public sector, we mostly perform maintenance on roads, town squares, etc. for municipalities. These are the jobs we are most involved in today.
How did you get started in this business?
I started at the age of 13, greasing trucks for my father who was active in agriculture as well as earthworks and excavation for the construction sector. Our family business was engaged in that kind of activity for years; at that time, as I said, we focused more on telecommunications and maintenance. Speaking strictly of road work, my first encounter with a roller was when I was a boy. It was an Ursus Peroni, a legendary brand. Would you believe that a friend of mine still owns a model of it as a collector's item, and to make me happy he recently gave me his branded license plate?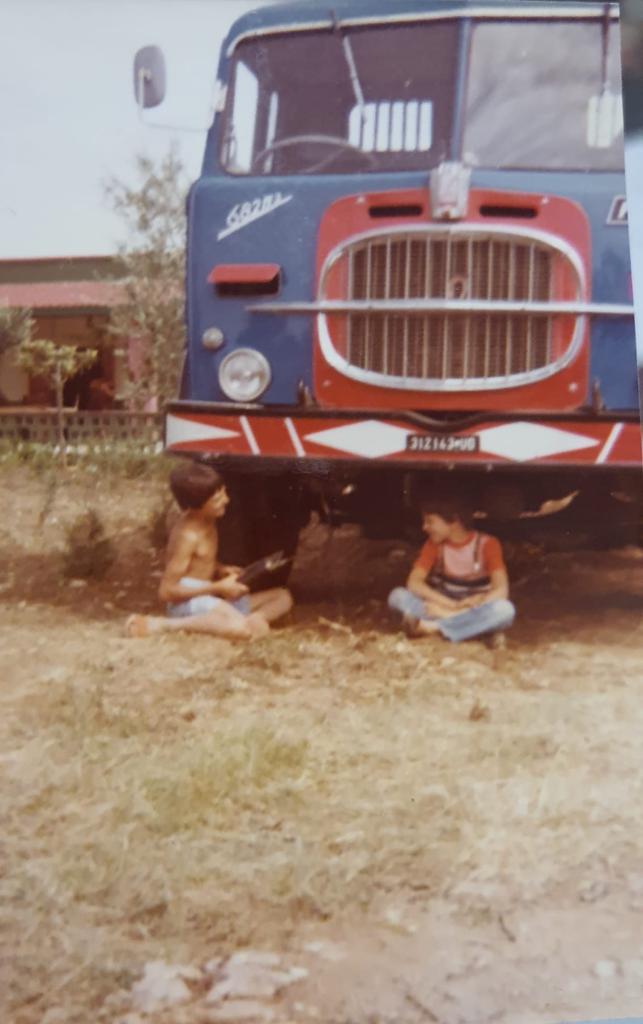 What is your primary focus for achieving your business goals?

On the competence of our staff and the efficiency of our equipment. For example, we have excavators, milling machines, pavers, rollers and vibrating plates for maintenance and restoration. In short, everything you need to create a perfect road surface with state-of-the-art flatness. This attention to the quality of the pavements is also essential when we have to close the excavations after laying fiber optics, for example. And even though we've also had insurance on this aspect for years, we've never had to use it. As I was saying, competence is an essential aspect for us. Would you believe that we have some skilled and properly trained workers with us who, as I always say, have eyes that are better than georadar?
Speaking of machines, a first in your fleet is the new Dynapac F1250CS. How did you learn about it?
We got to know about this machine as a result of our research aimed at finding a suitable way of doing restoration work in narrow spaces in the context of Open Fiber work. Before that, we used a larger machine from another company for this kind of work, but activating the screed shrinkage became a rather complex operation, which slowed down production. I should say that we were looking for a new machine, not a used one, because with machines, I think it's better to start off on the right foot, and that we should be the only ones to 'use' or 'have used' them. Dynapac recommended this machine to me, and I wanted to see it first hand. My first impression was already excellent.
Were you able to increase production?
Has your workflow improved? Of course. The machine's innovative screed facilitates both narrowing and widening, making it very versatile. We are now able to smoothly pave over widths of 60 cm with fluidity. In terms of technology, it's on an entirely different level. And imagine... now the team can be made up of just two people, instead of the four that we needed before.
| | |
| --- | --- |
| And then there's the icing on the cake... the radio control. This is an unprecedented innovation, but even in this case we wanted to evaluate it in the best possible way, by conducting tests in our yard, because we already had experience with radio controls for cranes, but we weren't always completely satisfied with the levels of precision, which are an essential factor with paving. I have to say that we are also very satisfied with this option; the operators can carry out all the dashboard functions, from advancing to controlling the thicknesses, in complete safety and with extreme precision. We have already exceeded 100 hours of work in this mode, and I must admit that the result has always been good. Especially for people who work in tight spaces, the ability to move away from the machine is a great added value, not only in terms of safety, but also in terms of accuracy in the workmanship. With the radio control, you can work up to ten meters away from the machine, exactly as if you were on your belly. It also improves safety when performing legally required checks, it improves visibility and, above all, it improves the comfort of the teams, who can finally operate at a distance from the asphalt fumes. | |
We say goodbye to Montecristo who, as a last gesture, goes in search of two images that are really significant for him: Andrea at 13 with his father's truck and the picture of the Ursus Peroni. We feel it is our duty to publish them in order to thank him and to let the reader enter even more fully into this beautiful story of his experiences and attention to innovation.
The screed: performance, ideal temperature and ease of use, even in tight spots
The new Dynapac V2400 high-performance screed, the heart of the compact paver in the Edilstrade di Montecristo fleet, can be heated by gas or electricity. With multiple adjustments, such as angle of attack and deep plates, the screed offers excellent pre-compaction and a smooth surface even with thick layers. The kit for paving width reductions can be mounted on the screed without disassembling other parts. With this kit, the F1250CS can be used for paving tracks and/or narrow trails. And last but not least, the temperature of the screed is regulated via the display on the dashboard. As the device is equipped with a self-regulating thermostat, the temperature will always be constant, but with a minimum waste of energy.