THE DYNAPAC COMPACT EQUIPMENT RANGE complements our larger compaction & paving equipment
to get the job done in relatively confined spaces.
Dynapac S100 is a self-propelled mix spreader best suited for use in relatively small and tight spaces. It helps you deliver consistent results by allowing precise height and material flow adjustment. You will experience a new level of operating comfort thanks to the swivel castor wheels and all the controls that are located at the fingertip.
The S100 works with hot mix asphalt, aggregates and base course material.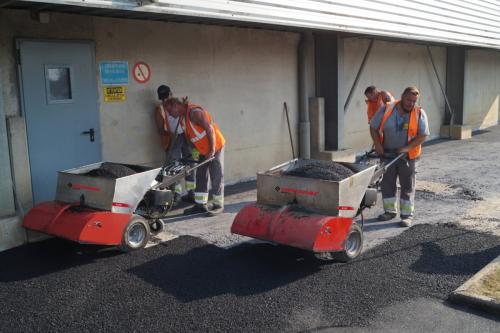 F

irst Class Comfort

Built with operator comfort as one of the prime focus, the Dynapac S100 addresses one of the main challenges – Muscular Skeletal Disorder. Self-propelled with front and reverse drive controls at the control handle makes it easy for the operator to move to the material from point to point. The swivel castor wheels are specially built for making those quick moves and adjustment in tight spaces.

Thus, the operator focusses on getting the job done rather than struggling to move the heavy mix around physically.
Consistent & Smooth Results
A screed with three step flow regulation allows you to control the amount of material laid out. The screed is heated up using the energy from the engine exhaust that keeps the mix warm.
In order to adjust the height of the mat precisely, the S100 features two hydraulic cylinders. These cylinders can be controlled independently from the handle and is used to regulate the height of the mat.
Quick & Easy
The S100 is powered by a Honda engine. Being self-propelled you can quickly and easily move it from point to point.
The compact size of the equipment makes it easy to work in tight spaces. Quick maneu­vers are made possible by the swiveling castor wheels and being light in weight, it can be easily transported around.
*Scope of supply differs by variants