Dynapac MF2500CS with SwingApp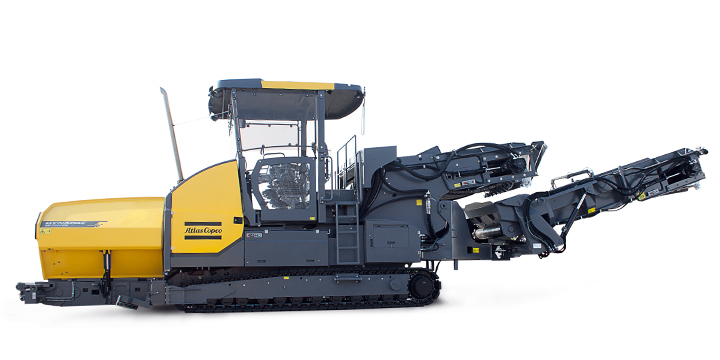 Here you will be able to find presentations, animations and feedback about this innovative machine!
High performance & versatility combined in the Dynapac MF2500CS mobile feeder
The Dynapac MF2500CS mobile feeder features a high performance conveying system that can empty a truck in less than 35 seconds! The only 2.55 m wide feeder on the market, the Dynapac MF2500CS is easy and cost-effective to transport, with no special permission needed. The machine is highly operator friendly, operating costs are low and reliability and serviceability are high. What's more, an optional Swingapp makes this a super flexible and versatile machine.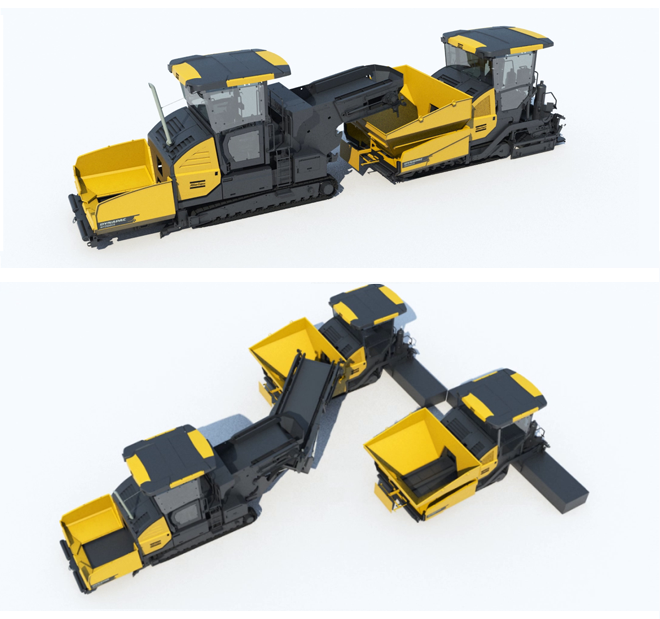 Swingapp option for maximum flexibility
Equipped as standard with a short conveyor, the MF2500CS mobile feeder can also work with an add-on Swingapp. Swingapp transforms the MF2500CS to a feeder suitable for offset feeding application – feeding two pavers side by side, feeding one paver from a different lane, fill medians etc. Swingapp conveyor can swing 55° to both sides.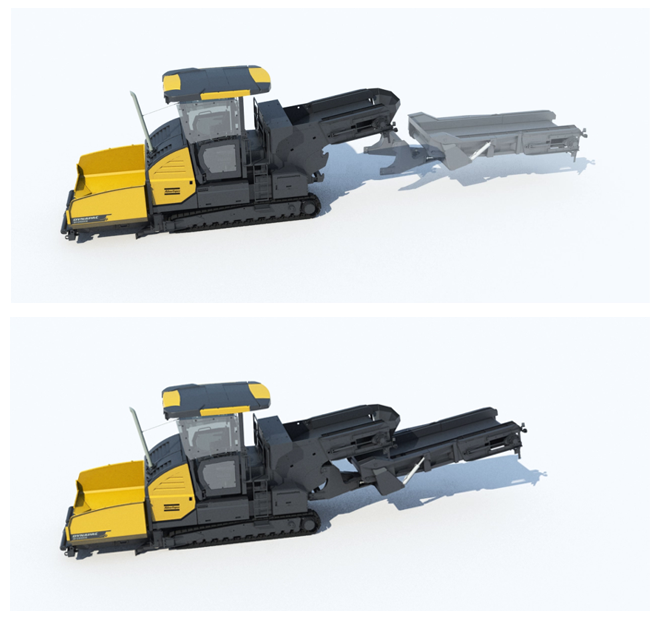 Swingapp – cost saving no other feeder can offer!
Innovative design helps customers to keep the investment costs low as the Swingapp can transform a MF2500CS to an 'offset feeder'. The same Swingapp can be mounted on any MF2500CS allowing optimal fleet management. Faster reaction time to various jobsite requirements offer huge advantage to customer thanks to a mount/ dismount time that is under 45 minutes! When not required, the Swingapp can be dismounted, which considerably prolongs the lifetime of the belt and minimizes costs.
Full control
The MF2500CS operation is fully automated by steering, distance and feeding sensors. Optional joystick integrates main drive functions and Swingapp functions ensuring full control to the operator.
New 'platform lift' option
Platform can be lifted 1m from its base position - a feature that gives operator excellent visibility especially while working with Swingapp mounted on MF2500CS.